How to Prepare for Adoption
Nov. 15, 2022
Over the last four years, Pennsylvania averaged over 2,400 adoptions per year, according to statistics put out by the Children's Bureau, which works under the Department of Health and Human Services. This means there are thousands of families across the state that have successfully worked through the adoption process and now are able to be parents. Although this process can be long and difficult, adoption can literally change the life of a child for the better.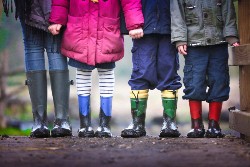 If you'd like to know more about what you can do to start preparing for adoption, reach out to us at Iwanyshyn & Associates. Our team can walk you toward the right path and assist with any challenges thrown your way. From our offices in Allison Park, Pennsylvania, we can represent clients in Pittsburgh, Wexford, Cranberry, and Gibsonia.
Types of Adoption
There are a few different types of adoption you'll want to consider when just starting out. The first is called an "agency adoption," and this means you'll be working with a licensed public or private adoption agency that will work to place you with a child. You may also consider an "independent adoption," where you would seek out and find an individual who agrees to let you adopt their child after they give birth.
There are also "identified adoptions" that meld these two, where the adoptive parents and birth mother find one another and then use an agency for the rest of the process. You may also wish to do an international adoption, adopt the biological child of a partner or step-parent, or adopt through fostering. In any case, you should work with a family law attorney you trust to ensure the legal requirements are all taken care of.
Preparing for Adoption
Work With Experienced Legal Counsel
The most important step is to work with an experienced adoption attorney in Pennsylvania who can inform you of your options and help make the process easier for you.
Learn About Adoption Options
Take the time to educate yourself about the different options and determine the best fit for you. Each comes with its own set of benefits and drawbacks.
Inquire About the Requirements for Adoption
Each state and agency sets its requirements and criteria for adoptions, and this often involves a thorough vetting process, including background checks, home visits, interviews, training, and fees. Make sure you understand all of this before you get too far into the process.
Prepare for Expenses
It's no secret to parents that having kids is an expensive endeavor, and many prospective parents find that adopting is also quite expensive when you factor in agency fees and legal fees.
Choose an Agency
Don't be afraid to interview with several agencies to find one you feel comfortable with. This process can take several months, if not years, and you want to feel confident in your agency.
Take Required Classes
Most agencies require you to take parenting classes and training so you know what you can expect from the process as a whole. Be prepared to spend both time and money during this process.
Complete the Home Study Process
All agencies require some sort of home study, and most will do multiple home visits. Here a representative or social worker will visit your home to see if you're able to provide a safe space for children, and they'll also conduct lengthy interviews with you, as well as seek character references from those who know you.
Bring Your Child Home
The last and most joyous step is bringing your child home. This will be a time of complex emotions as you navigate your new role as a parent. You'll still receive support from the agency, including post-adoption visits to ensure the child is adjusting well.
Seek Trusted Legal Guidance
If you're in the Allison Park, Pennsylvania, area and would like to speak with an experienced attorney about becoming an adoptive parent, contact our team today at Iwanyshyn & Associates. We have the resources, comprehensive skills, and practice to walk you toward a bright future with your family. Reach out today to discover your options.