The Differences Between Guardianship and Adoption in Pennsylvania
Jan. 8, 2023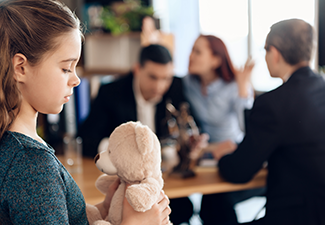 Becoming a person's legal guardian is a major decision. Similarly, adopting a child or an adult can significantly change your life. Therefore, if you're a prospective parent or guardian, you should understand the nuances of each legal term to make informed decisions about the future of their families.
At Iwanyshyn & Associates, our family law attorneys represent individuals and couples throughout Allison Park, Pittsburg, Wexford, Cranberry, and Gibsonia, Pennsylvania. Let's unpack the differences between guardianship and adoption.
Guardianship in Pennsylvania
In Pennsylvania, guardianship refers to the parental rights a person holds over a child. These parental rights also come with obligations. These obligations refer to ensuring the child's basic needs are covered.
Nevertheless, a guardian is not a child's legal parent unless they choose to formally adopt the child. Until adoption occurs, guardianship is meant to be a temporary solution until the child finds a permanent arrangement.
It's also important to note that guardianship can also refer to protecting an adult individual in physical or mental incapacitation cases.
Who Can Be a Guardian in Pennsylvania?
Any adult can become a legal guardian for a minor child in Pennsylvania. However, becoming a guardian is typically a decision a child's parents make, often through designating guardianship in a will.
While any adult can become a child's legal guardian, some limitations may apply. If you're seeking to become a guardian in Pennsylvania, it may be difficult to do so if you:
have a criminal record,

are currently incapacitated (physically or mentally),

represent a danger to the child, i.e. you have a history of violent behavior, drug addiction, alcoholism, or severe mental illness.
Adoption in Pennsylvania
Adoption is the process in which a guardian becomes a child's legal parent. As such, the adoptive parent assumes full parental rights over the child, including custody. For instance, a step-parent adoption involves a child's step-parent becoming their legal parent.
As of February 2022, a total of 14,000 children were living in foster care in Pennsylvania. Across the United States, 117,000 foster care youth await adoption. While families seeking to adopt do not have to go the foster care route, these numbers give us a glimpse at how many children are in need of a permanent home.
Who Can Adopt a Child in Pennsylvania?
Like guardianship, anyone can adopt a child unless they fail to meet the requirements designated by Pennsylvania law. Please note that Pennsylvania law is strict about adoptions. The process of adopting a child involves several background checks and visits from social workers.
The adoption process is often much smoother if the person or couple seeking to adopt has already been the child's guardian(s). However, the process can become lengthy depending on the circumstances of your case. Above all, adopting a child requires emotional commitment since it is a permanent solution for the child's needs. And, adoptive parents must be able and willing to make the financial commitment to ensure the child is provided for.
There are multiple adoption pathways to consider:
Private adoption. A private adoption is an agreement between a child's biological parents and a potential adoptive parent. This transaction occurs between the two parties without third-party intervention, such as an adoption agency.

State adoption. A state adoption occurs when the state terminates parental rights leaving the child under the state's care. The adoptive parent then adopts the child through the state's adoption process.

Step-parent adoption. This type of adoption happens when a step-parent becomes the child's legal parent.

Adult adoption. Adult adoptions are also possible. For instance, a step-parent officially adopts a step-child once they are an adult. Adult adoptions are often an emotional commitment. However, adult adoptions can also have practical purposes, such as including a step-child in the adoptive parent's will or inheritance.
It is highly recommended that folks interested in adopting a child or adult seek the counsel of a knowledgeable lawyer. Our experienced adoption attorneys can help families navigate the complex waters of the process in Pennsylvania.
What Is the Difference Between a Legal Guardian and an Adoptive Parent?
On the whole, a legal guardian and an adoptive parent play the same role. However, there are some key differences to consider:
Guardianship is temporary; it generally ends when the child is 18. Adoption is permanent.

Guardianship may be court-ordered. Adoption is voluntary.

Guardianship is about ensuring the protection of a child's basic needs. Adoption is often an act of love involving a deep emotional and financial commitment.
Ultimately, choosing between guardianship or adoption boils down to the commitment you are seeking to make. Since guardianship is a temporary solution, the overall commitment is less intense than that of adoption. If you're wanting to provide a permanent home for a child, or to include an adult loved one in your inheritance, adoption is likely the right path for you.
Finding the Right Family Law Attorney in Pennsylvania
At Iwanyshyn & Associates, we strive to put children's rights first and fight hard to protect families. That is why we are prepared to go the extra mile to help our clients make informed decisions.
Contact us today to speak with a professional family law and adoption attorney. Get the right legal counsel you need today.