Why to Use an Estate Planning Attorney Instead of a Form
May 16, 2022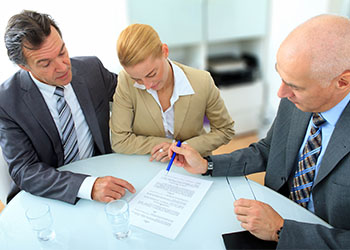 You have probably heard the saying, "You get what you pay for" and understand what it means. You may have also heard that some things are "one-size-fits-all," but know that this isn't always the case. Such sayings are relevant to the reasons why it's better to hire an experienced estate planning attorney to draft your will and other estate planning documents rather than using online forms.
What you pay looks inviting on websites where an "Estate Plan Bundle" is maybe two hundred dollars. This isn't a great sale on a designer pair of shoes. It's a cheap price for a designer knock-off. Your estate plan may look "official" but doesn't compare to having an experienced attorney create an estate plan just for you.
At Iwanyshyn & Associates, we have helped hundreds of clients from Allison Park, Wexford, Pittsburgh, Gibsonia, and Cranberry, Pennsylvania, craft personal estate plans that will hold up in court when it's time for those plans to go into effect. We protect legacies.
Why Is Estate Planning Important?
In a nutshell, estate planning is important because it allows you the opportunity to decide what happens to your estate when you're gone, who gets to make decisions regarding your life or death if you can't make them yourself, and how you will be supported if you are no longer capable of making decisions about your care.
If you die or become incapacitated without fully-executed estate planning documents, the court, not you, will make these crucial decisions. You should make them for yourself.
Online Forms vs. Estate Planning Attorneys
There are many reasons why hiring an estate planning attorney to draft your plan is far superior to using generic online forms. Here are five reasons you should consider when making such an important choice:
Your estate plan should comply fully with Pennsylvania law or you risk opening it to challenges.
Every state has different laws governing estate plans, inheritance, taxes, and how estates are handled in probate. Although those online forms claim to be state-specific, they are by nature generic. Nothing can replace the up-to-date knowledge of probate law in a state. Moreover, generic online forms are often incomplete and don't collect the comprehensive information necessary to make them legally enforceable.
You are interpreting what the forms are asking for and completing them to the best of your knowledge. Unique circumstances, assets in more than one state or country, and other considerations aren't addressed on online forms. You benefit from the sophistication of an estate plan uniquely crafted for you that complies with current Pennsylvania law.
Making modifications to online forms is problematic.
Any time you make one change to an existing estate planning document, you are effecting changes throughout all of them. If you are using online forms, you will have to figure that out for yourself. If you are working with an estate planning attorney, they will know how one change affects your entire plan and what revisions need to be made to every document as a result.
If your estate plan is open to interpretation in any way, such as when one document says something that appears to dispute what's said in another document, the court will decide what happens. If that happens, why did you bother with creating an estate plan in the first place?
Estate planning demands sound, experienced legal advice.
An online estate planning form will provide instructions for completing it, similar to the instructions from the IRS that accompany income tax forms. Those instructions are often confusing and open to interpretation.
Moreover, online forms demand that you put a round peg in a round hole. Your wishes are not always fitted that way. You need insight regarding such issues as tax implications for heirs and beneficiaries and what legal requirements there are for the transfer of assets upon death. Only by consulting with an estate planning attorney can you ask questions, get answers, and obtain all the information you need to make decisions regarding your estate.
Disputes may arise when you are no longer able to tell people your decisions.
As you can imagine, the beneficiaries and heirs of an estate are not always pleased with what they end up with. This displeasure precipitates challenges to estate plans in probate. Properly-executed estate plans usually hold up in court. That means what happens to your estate is what you wanted to happen to it, despite the wishes of a disgruntled heir.
Having your estate planning attorneys there to defend your documents, if challenged, is a major benefit. They can address questions regarding your intent, and because your attorney does not benefit from your estate plan, the court is more likely to believe their testimony. If someone challenges the decisions you made while you were alive, your documents and your attorneys will be your voice when you're gone.
You benefit from the added safeguarding of your estate planning documents.
If your fully-executed will cannot be located after you die in Pennsylvania, the probate court will consider it revoked. Without a valid will, your estate will be subject to the laws of intestate succession, and its proceeds distributed as directed under that law. If your attorneys have the original will or copies, those can be submitted to the probate court. If you lose the signed copy of that online form, your estate is simply out of luck.
How Iwanyshyn & Associates Can Help
The best estate plans are not only created. They are updated throughout your lifetime as well. Marriage and divorce, the birth and death of children, the accumulation and sale of assets, and the building of a business are all life-altering events that must be reflected in your estate plan as they occur. Choose online forms and you are constantly attempting to update them. Work with an estate planning attorney and all you need to do is call, discuss the changes, and stop by to execute updated documents.
If you live in Allison Park, Pennsylvania, or the surrounding areas, choose who drafts your estate plan wisely. Call Iwanyshyn & Associates now to get started on yours.