Wills vs. Trusts: Which One is Right for You?
March 21, 2022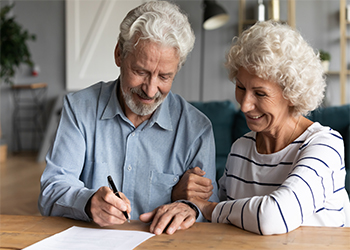 According to a recent study, polls indicate that 45% of people have a living will. While most estate plans have a will and one or more trusts, one can be more important than the other and serves as the foundation of the estate plan, with the majority of the estate passing through it. You may ask yourself, which one is the right one for you and your family? The answer depends on your financial situation and goals.
Our experienced estate planning attorneys at Iwanyshyn & Associates handle a wide range of matters, including helping clients navigate the sometimes complicated machinations of wills and trusts. Deciding what is best for your unique situation, we can help you develop a plan for the future. From our Allison Park, Pennsylvania office, we proudly serve clients throughout Pittsburgh, Wexford, Cranberry, and Gibsonia.
Wills
A will, sometimes referred to as a last will and testament, is the legal document in which you designate how you want your assets distributed after you pass away. Assets can include physical property — like your house, car, and pets — and financial assets like your bank and investment accounts. With a will, you can also name a legal guardian for your minor children, if you have any.
There are several different types of wills, but of these, here are four of the most common:
Simple Will

Testamentary Will

Joint Will

Deathbed Will
There are numerous benefits to having a will, including:
You can be in control of how your property is dispersed

You can create a testamentary trust in the will

You can name a guardian for children and provide for them

You choose your executor

You can plan for personal matters

You can amend it

You can revoke it

Doesn't have to be expensive
Just like there are advantages to having a will, there are also some disadvantages. For one thing, wills can be challenged if someone is not happy with the result. Additionally, there is the possibility that the will does not fully address tax concerns.
Also, if the financial considerations in the will are over a certain amount, the will must be filed for probate through the court system. At that point, the will becomes a public record.
Trusts
A trust is a legal arrangement in which you (the grantor) give an individual (the trustee) the right to oversee your assets on behalf of your beneficiaries. Generally, people appoint themselves as the trustee, which allows them to use and control their property while they're still alive. If you choose this route, you should name a successor trustee. This is the person who will manage your trust after you pass away or become incapacitated.
There are many different types of trusts, but they typically fall into two categories: revocable (can be revoked or changed) and irrevocable (usually can't be changed without a court order). Some other types of trusts include:
Asset Protection Trust

Charitable Trust

Constructive Trust

Special Needs Trust
Like wills, there are advantages and disadvantages to both. Among the advantages a trust can:
Avoid probate court

Remain private

Reduce the possibility of a court challenge

Assure control of your finances after death
Disadvantages of trusts may include high costs, difficulty keeping and maintaining records, and no protection from creditors.
Which is Best For You?
Again, choosing which option is best for you is highly dependent on your situation. Generally, a trust is better suited when real estate is involved. Even if it's just a primary residence, entering into probate can be very expensive. Compared to the cost of setting up a trust, the savings of a will are apparent.
Aside from just the cost, trusts tend to be a good choice for someone concerned about handing over a large inheritance to their children, either because they are still very young or have shown signs of financial irresponsibility. A living trust allows these clients to manage and protect inheritances by restricting access to the funds.
For someone who has no real estate and or someone who knows an inheritance will not be mismanaged, a will is often sufficient.
Hiring Our Experienced Allison Park Estate Planning Attorneys to Help
Regardless of whether you choose a will or trust, our experienced estate planning attorneys at Iwanyshyn & Associates can help you formulate an estate plan that fits your unique situation. No two cases are ever alike, so estate planning options will vary from person to person. Our team possesses the experience, dedication, and advocacy skills to provide clients with excellent legal representation. Reach out to our estate planning attorneys today to set up an initial one-on-one consultation to get started. We proudly serve clients in the Pittsburgh area, Allison Park, Wexford, Cranberry, and Gibsonia, Pennsylvania.