COVID-19 and Spousal Support Obligations
Nov. 11, 2021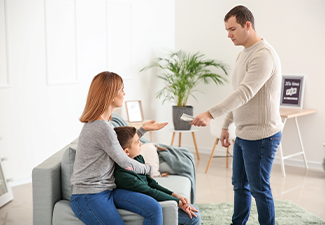 The global economy was severely affected by business closedowns due to the COVID-19 pandemic. Businesses in Pennsylvania and across the United States didn't only close their doors but laid off employees. According to data from Pew Research Center, roughly 9.6 million U.S. workers lost their jobs during the COVID-19 downturn. Unfortunately, the economic hardship and practical uncertainties caused by COVID-19 have made it difficult for many people to meet their domestic support obligations—their alimony and child support payments.
If you are struggling to pay spousal support amid COVID-19 or if you have not been receiving your court-ordered payments, consulting with an experienced Pennsylvania alimony and spousal support attorney is crucial for detailed guidance. At Iwanyshyn & Associates, we have the experience and resources to guide clients in complex divorce issues, including spousal support obligations.
As your legal counsel, we can evaluate your unique situation, help you understand your rights regarding alimony, and explore the options available to you. Our team will fight diligently to protect your rights and help negotiate with your spouse to achieve a feasible alimony resolution. Even if you need to modify or enforce spousal support payments, we can offer you the comprehensive legal guidance and reliable advocacy during this difficult time.
Iwanyshyn & Associates proudly serves clients across Allison Park, Pennsylvania, and surrounding areas, including Pittsburgh, Cranberry, Wexford, and Gibsonia.
How COVID May Affect Spousal Support
Spousal support is a court-ordered payment from one spouse to the other spouse during the divorce process or for a period after the divorce has been finalized. In Pennsylvania, the court may order spousal support to serve as financial assistance from the higher-earning spouse to the lower or non-wage-earning spouse.
Unfortunately, many individuals paying or receiving spousal support have also been affected by the COVID-19 pandemic in different ways. Their income has either been reduced, become uncertain, or completely disappeared. However, failure to pay spousal support can result in additional consequences for the delinquent party. Thankfully, financial hardship as a result of COVID-19 may be a reason to have alimony payments reduced. Hence, if you are the paying spouse, you may:
Seek the consent of the recipient spouse to reduce the amount of alimony

File a court order seeking modification of the support order
An experienced family law attorney can evaluate the surrounding circumstances of your situation and enlighten you on how to negotiate, enforce, or modify a spousal support plan.
Enforcing a Spousal Support Plan
During COVID-19, Pennsylvania courts expect the paying spouse to comply with the spousal support order. When the paying spouse violates the terms of the alimony agreement or is delinquent on spousal support payments, the recipient spouse may seek the help of the Pennsylvania family court to remedy the situation.
Essentially, despite reduced income or other economic hardships that might have occurred, spousal support obligations are still enforced. There must be a modification filed in court if the paying spouse is unable to meet the current obligation due to qualifying situations created by the coronavirus pandemic.
If the higher-earning spouse refuses to pay alimony to the lower-earning spouse or reduces their payment, the recipient spouse may file a motion or contempt action requesting the court to enforce the spousal support order. Should the paying spouse continue disobeying the court order, a judge may impose additional punishment, including jail time, fines, or both.
Modifying a Spousal Support Plan
Under Pennsylvania laws, either spouse can request a modification of the existing spousal support agreement if there is a significant "change in circumstances" since the order was made. Some common reasons that may prompt you to seek spousal support modification include:
The paying spouse has a significant drop in income

The receiving spouse no longer needs it

New marriage or cohabitation

There are extraordinary and ongoing medical expenses

New obligation for the paying spouse

The receiving spouse is not making any reasonable effort to become self-supporting
Of course, many individuals were laid off during the COVID-19 pandemic. For the paying spouse, losing their job may result in a significant decrease in their income. Thus, the judge may consider this a "change in circumstances" when seeking alimony modification. A knowledgeable attorney can explore your possible legal options and help you file the necessary paperwork.
Experience You Can Rely On
In most divorce cases, spousal support agreements are established to serve as financial assistance from one spouse to the other. However, the economic hardship caused by the COVID-19 pandemic has made it difficult for some paying spouses to meet their alimony obligations. They may be late on payments, or in extreme cases, stop paying altogether. If you're trying to enforce or modify an existing spousal support agreement due to COVID-19 economic disruptions, consulting with an experienced family law attorney is imperative.
At Iwanyshyn & Associates, we are dedicated to offering experienced counsel to clients in complicated family law and divorce-related issues. Using our extensive understanding and compassion for your family's needs, our team will evaluate all the surrounding facts of your situation and help you determine the best course of action. We will work diligently with all parties involved to negotiate an actionable support agreement and craft a reasonable solution that works best for you and your loved ones.
If you wish to enforce or modify an existing alimony agreement, contact Iwanyshyn & Associates today to schedule a simple case assessment. Our experienced attorneys can offer you the detailed legal counsel and compassionate representation you need to navigate your spousal support case. We are proud to serve clients in Allison Park and surrounding areas in Pennsylvania, including Pittsburgh, Cranberry, Wexford, and Gibsonia.