Dispelling Adoption Myths
Dec. 13, 2022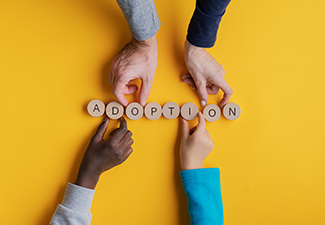 What was the last choice you made? Was it food related? What to wear? Which Starbucks coffee to order? Over the course of a day, the human brain is constantly processing thoughts and choices. According to an article posted in Psychology Today, the average adult makes a staggering 35,000 choices per day. While the vast majority of daily human choice is related to minuscule tasks, some decisions are much more complex and require careful processing and consideration. Adoption of a child is one of those choices.
At Iwanyshyn & Associates, we have represented clients who have adopted for a wide variety of reasons. Some people adopt because they want to expand their family, and others adopt because of an inability to conceive. We have also represented senior adults that felt a strong passion to provide a stable home for a child in need. Regardless of the reason for adoption, our team has the practice, knowledge, and compassion to guide you through the process. We proudly serve clients in Allison Park, Pittsburgh, Wexford, Cranberry, and Gibsonia, Pennsylvania.
Overview of Adoption in Pennsylvania
Although many different pathways can lead to successful adoption, there are some commonalities among all paths. For those considering adopting, it's paramount to take the time to learn and develop a deep understanding of the adoption process and what to expect. Here is a brief overview of the process in Pennsylvania.
Assess your actual readiness to adopt.
The critical word here is "actual." Many people focus on the emotional investment and the opportunity to help a child in need. While this passion certainly needs to be at the heart of every adoptive parent, those considering adoption must be able to accurately assess their readiness to adopt and carefully evaluate other investments such as time and money. A personal assessment should also consider the development of trust for those helping you make decisions. This can include but is not limited to, youradoption attorney, adoption agency, and court or family service appointees. Getting insight from trusted sources can also help ensure you are ready to fully engage in adoption with confidence.
Decide on which type of adoption is the best fit.
There are four main ways to adopt: surrogacy, domestic, international, and foster care. Each is unique, and finding the best fit takes careful consideration. When deciding, it is best to learn about each method and give it due diligence. Sometimes, as we guide potential parents through the four methods, we see individuals make a shift from what they thought was their preferred method to another, as they unexpectedly discover a child that ends up being the best fit.
Choose an experienced Pennsylvania adoption attorney.
When you have made the decision to adopt, you want a partner that can give you the best chance to pursue a successful adoption. Not only is the adoption process a massive emotional investment but a financial one as well. When navigating the process alone, unexpected changes can significantly delay the process, and the lack of legal accountability can lead to a failed adoption. Being proactive on the legal front helps ensure the rights of all parties are protected, and that the desired outcome is achieved.
Engage the adoption process.
The adoption process requires a significant amount of planning and required paperwork. Initial steps include submitting a formal adoption application and creating a family profile. Once the matching process is initiated, potential parents are required to participate in a home study and pre-placements visits. When the result of the placement process appears positive, a formal request may be submitted to the courts to approve and finalize the adoption.
Common Adoption Myths
Because adoption is a complex and unique process, it's easy to allow the internet and grapevine myths to shape knowledge and understanding. Here are a few common misconceptions that can lead to a false understanding of the adoption process.
You need to be married to adopt.
False. Any adult that can provide a safe, supportive and loving home can adopt.
You need to be a certain sexual orientation to adopt.
False. Not allowing singles and couples to adopt based on sexual orientation is discrimination.
You need to own a home to adopt.
False. What matters most is the ability to provide a positive environment for a child to live and play.
The birth mother can take the baby or child back.
False. Once the courts order the adoption final, biological parents have no legal rights to change their minds.
Adoption takes years to finalize.
False. In most cases, the adoption process can be finalized in less than one year.
There is little financial assistance for adoption.
False. Every state has adoption and guardian assistance programs that are designed to help afford the cost of adoption and raising adopted children.
Skilled and Compassionate Legal Counsel
Building a family through should be a joyous experience. At Iwanyshyn & Associates, we take the stress and worry out of the adoption process by providing skilled and compassionate legal counsel. Regardless of where you are in the process, we are here to listen and help create the best path toward a successful adoption.
If you are considering adoption in Allison Park, Pennsylvania, or the surrounding communities of Pittsburg, Wexford, Cranberry, or Gibsonia, we are here to help when you need it most. Contact our team today to learn more.